Even tijd over de middag in Leuven voert mij naar The Loving Hut in de Tiensestraat. Zo veel zon resulteert in overal overvolle terrassen, maar daar maal ik niet om. Ik kan na een extreem zonnig weekend wel wat schaduw gebruiken…
The Loving Hut combineert een vaste vegetarische kaart waarop ondermeer een dagelijks variërende lunchbox staat. Daarnaast afficheren ze met een aantal suggesties: de summer roll (4 stuks) met een mix van slaatjes (€ 12,50) prikkelt mij meteen. Verkocht! Ik haal nog een flesje water uit de koelkast waar nog veel andere verleidelijke drankjes (zoals Kombucha en Tao) en desserts lonken. Toch kies ik voor sober.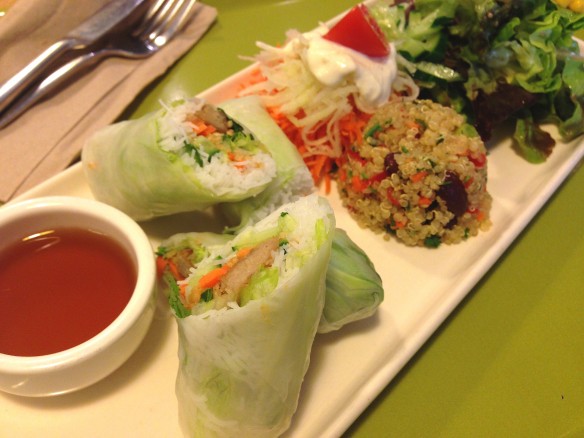 Terwijl mijn iPhone tevens wat voeding krijgt, consumeer ik tevreden mijn lunch. Op het langwerpige bord liggen een aantal zomerse rollen (die in het Engels doorgaans spring rolls genoemd worden – iets wat een taalmens als ik doet glimlachen): een blad sla dient als loempiavel en daarin zitten ondermeer glasnoedels, tofu, wortel en koriander. Daarbij komt een frisse Aziatische dressing, een quinoaslaatje met lente-ui en kidneybonen en tenslotte nog heel wat andere rauwkost zoals wortel, daikon, tomaat, sla en maïs.
Een frisse lunch op een ongewoon hete meimiddag! Rauw en vegetarisch, dus hoef ik mij geen zorgen te maken over dat eventuele namiddagdipje…