Een boek van Natalie Young
Toen iemand van een uitgeverij mij vroeg of ik een roman met een link naar koken wou lezen, zei ik meteen "Ja!". Toen wist ik nog niet dat de ondertitel 'Over de vrouw die haar man bereidt' luidt. Jawel, je leest het goed. Kannibalisme met een culinair tintje.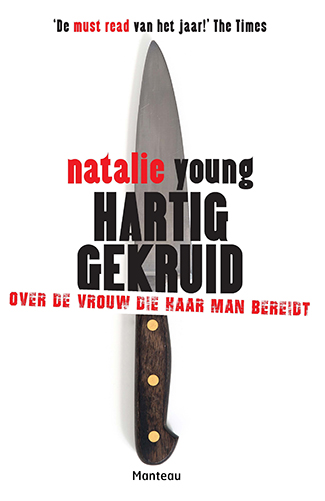 De roman opent met hoofdpersonage Lizzie Prain en haar hond Rita die uit wandelen zijn. Ze denkt na over hoe ze die avond het vlees zal bereiden. Meer bepaald, het mensenvlees van haar echtgenoot Jacob Prain die ze vermoord heeft en momenteel in de diepvriezer wacht op consumptie. Hem opeten leek voor Lizzie namelijk de meest logische manier om van zijn lijk af te komen.
Ik kan niet meteen zeggen dat ik genoten heb van dit boek. Los van het feit dat het niet echt aangenaam is om aan de ontbijttafel te lezen hoe iemand een rechtervoet of nog iets ergers bereidt, vind ik de schrijfkunsten van Natalie Young ook erg matig. Korte post dus.
'Hartig gekruid' holderdebol.comder kopen?