Hoe bereid ik mij voor op een business trip naar Stockholm? Euhm… Eigenlijk niet. Of toch: ik bestel de 100% Stockholm online en open die voor het eerst in mijn hotelkamer. De eerste avond beland ik met een collega 'op den bots' in de Aziatische tapasbar Waipo. De tweede avond worden we vergast op een galadiner in het Grand Hôtel. De derde avond wandelen we met een Oostenrijkse dame zonder eetplan – wegens geen plaats meer bij B.A.R. – door de stad en spotten we tegenover deze aardige kerk een al even aardig terras: Bakfickan it is.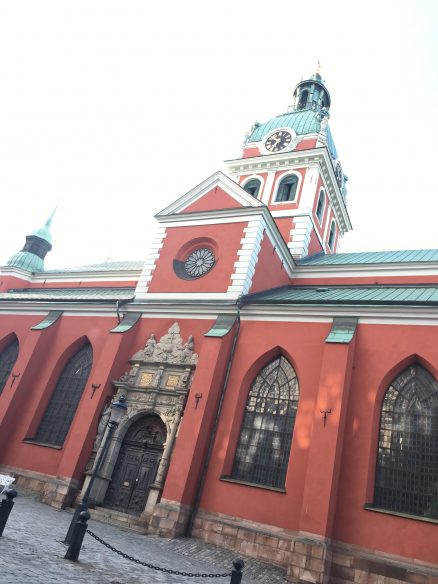 Er blijkt plaats te zijn en we genieten van deze Stockholmse Midsommar periode met veel zon en vooral véél licht – enkel donker tussen 23u00 en 02u00 of zo… We bestuderen met ons gedrieën de menukaart en landen allemaal bij dezelfde keuze: Fänkålseldad Fröyalax med smörstekta kantareller, bondbönsragu, dragon och citronvinegrette (in het Engels vertaald als 'Fröya salmon torched with fennel, butter fried chanterells, fava bean ragu, tarragon and lemon vinaigrette'). Dat bord kost 315 SEK, zo'n € 33,33.
Daarbij lust ik wel een glas witte wijn. Eén glas welteverstaan, want alochol blijkt in Zweden – net zoals in de rest van Scandinavië trouwens – pokkeduur. Onder de € 10 vind je quasi geen wijn, een biertje kost al snel € 6 à € 8.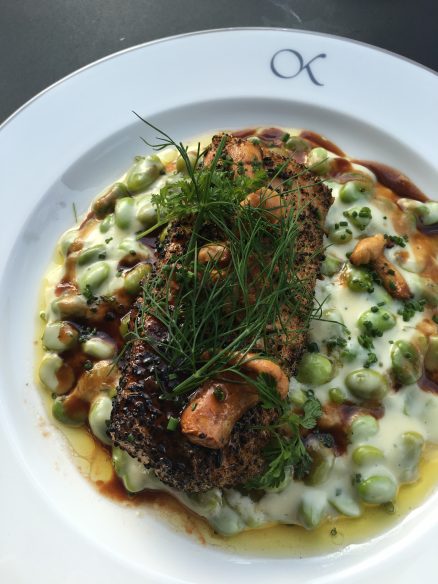 Laat ik alvast beginnen met dit bord samen te vatten in één woord: P·E·R·F·E·C·T! Ik had zin in een relatief lichte maaltijd die toch vullend genoeg is na een niet al te uitgebreide lunch eerder op de dag. De zalm blijkt vanbinnen perfect gebakken met toch nog die zo verrukkelijke smeuïgheid en vanbuiten gewikkeld in een korstje van peper en venkelzaad. Het visje rust op een ragout met van favabonen, dragon en limoen. Takjes dille en gebakken cantharellen vervolledigen het geheel… Merci, chef! I wish I could cook like this.
Achteraf vind ik Bakfickan terug in mijn 100% Stockholm boekje. Daar leer ik dat deze plek waar je Zweedse husmanskost – zoals de klassiekers kötbullar of gravad lax – kan eten de keuken deelt met het chique toprestaurant Operakällaren. Aha, vandaar! Hier zou ik willen terugkeren om elk element van de Zweedse eetcultuur één voor één te proeven.